How To Manage Easy Skin Care At Home?
Easy Skin Care At Home
Skin is the largest organ of the body and because of its placement outside the body, it's more likely to be damaged easily. Because this is the first thing anyone will see, people go to great lengths to preserve the youthful beauty of their skin. No wonder why the skincare industry is very profitable. But skincare doesn't necessarily have to be something pricey and only for the elitists. That's why people tend to love the idea of easy skin care at home.
The tradition of homemade skincare has long been practiced throughout many parts of the world. It's now almost as popular as buying skincare products. In fact, many popular and branded beauty products are packed full of harsh chemicals, toxic ingredients, harmful artificial colors, and whatnot. Even so-called natural and organic skincare brands may contain questionable ingredients that you would want to avoid. So, here is some easy skin care at home ideas for all types of skin types which are affordable and efficient.
Homemade cleanser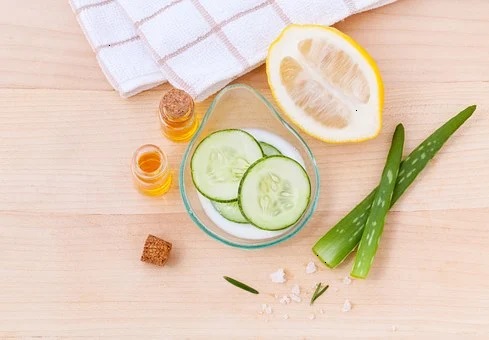 The first and foremost step of easy skin care at home or anywhere is cleansing your face. Every day your face is exposed to dirt and bacteria's which eventually clog the pores giving birth to skin problems. These homemade cleansers are affordable, has no side effect and will go soft on your skin,
Milk and honey cleanser:

Pick up a glass container. Mix 1 tablespoon of honey and 2 tablespoons of raw milk. Massage the mixture in a circular motion. Rinse off with warm water. This will help restore natural oils to the skin and moisturize it giving you a natural glow.

Curd and honey cleanser:

Again, take a glass container, combine 1 tablespoon of organic honey, and 2 tablespoons of curd. After mixing it well, apply it all over the face and keep it for 2-3 minutes. For dry skin, you can add 1 tablespoon of olive well. Rinse off with cold water. This will clean and soften your skin. This can be used on a regular basis.

Apple Cider Vinegar Cleanser:

Apple cider vinegar has a long history as a beauty ingredient. Mix a certain amount of apple cider vinegar with twice the amount of water. You can store a good amount of it in a spray bottle and keep it in the fridge. Shake well and apply to a clean face with a cotton ball or pad. Rinse off and apply your daily moisturizer.
Homemade face wipe
A DIY face wipe is a brilliant idea for easy skin care at home. It's an easy and fast way to clean your makeup and skin. All you have to do is:
Take 15 paper towel sheets, cut it in half, and fold them into small squares. Store in a mason jar.
Mix 2 cups of water, 2-4 tablespoon of olive oil, 1 tablespoon of witch hazel (medicine store), and 25- 30 drops of essential oils like tea tree oil or lavender oil and vigorously stir and try to get the water and oil combined.
Pour the mixture over the paper towel sheets.
Close the jar and shake well. All the towels need to be soaked.
When it's all ready, just grab a paper towel and gently rub on your face. Make sure nothing gets to your eye. This jar should stay good for a month.
Homemade moisturizer
Why waste tons of money behind an expensive moisturizer when you can easily make one for easy skin care at home. Time for a super easy 3 ingredient homemade moisturizer. You can use this twice a day. This is only for the face. This will heal and refresh your skin and leave you smelling like an angel.
Combine 1/2 cups of coconut oil or olive oil with 1 tablespoon of vitamin E oil. Add 6-8 drops of lavender essential oil and stir well. You're done.
We all know coconut oil tends to get hard in winter. In cold months, whip these ingredients together with a hand mixture. This will make the moisturizer creamier. Now, a gentle dab on your face is all you need.
Homemade lip balm
Easy skin care at home can't avoid the fact that the skin on our lips is one of the most sensitive skins on our body. It is easily harmed by harsh weather, the sun, or our hard lifestyle. So, a lip balm is a must. There is no such thing as 'too much lip balm.' Most people only use this in cold months but this is actually an all-season fruit. Hence, a homemade lip balm will go a long way. This also makes a quick and lovely DIY gift for friends and family.
This can be divided into 2 steps.
First, scrub your lips. Mix honey and a pinch of sugar and scrub your lips for a while. Wash off with cold water. Then apply this easy skin care at home made of only 4 ingredients,
You'll need 1 tablespoon of white beeswax pellet. Heat it in a double boiler and add 1 tablespoon of coconut oil to it. Add 3 to 4 drops of peppermint essential oil while stirring.
Once it cools down, pour it in your preferable container and leave to set. Now, just put on your lip balm, pout, and take a selfie.
Other ways you can take care of your skin without applying anything,
Drink, drink, and drink lots of fluid. Not the bad ones though.
Stress is reflected on your face more than you think. Manage your stress thus manage your skin.
Eat fat and oil-free food rich with water. Fruits are unavoidable for the skin. Eat healthily and keep your skin healthy.
Last but not the least, smile. Smiling makes you young and attractive.
Hope this article will help you to manage easy skin care at home. If you have any suggestions or question regarding easy skin care at home, please leave your comment below.
You might also be interested to check out our other related content like 10 easy beauty tips.